Need some help understanding your Tango bill?
Keep reading for a full breakdown on what each section of your bill means. If your bill doesn't quite look the same, it might be because you are in a different state. 
Need help with your Bill?
If you need any help reading your bill, contact our friendly Customer Solutions team on 1800 010 648, Monday – Friday from 8am – 6pm.
Your bill explained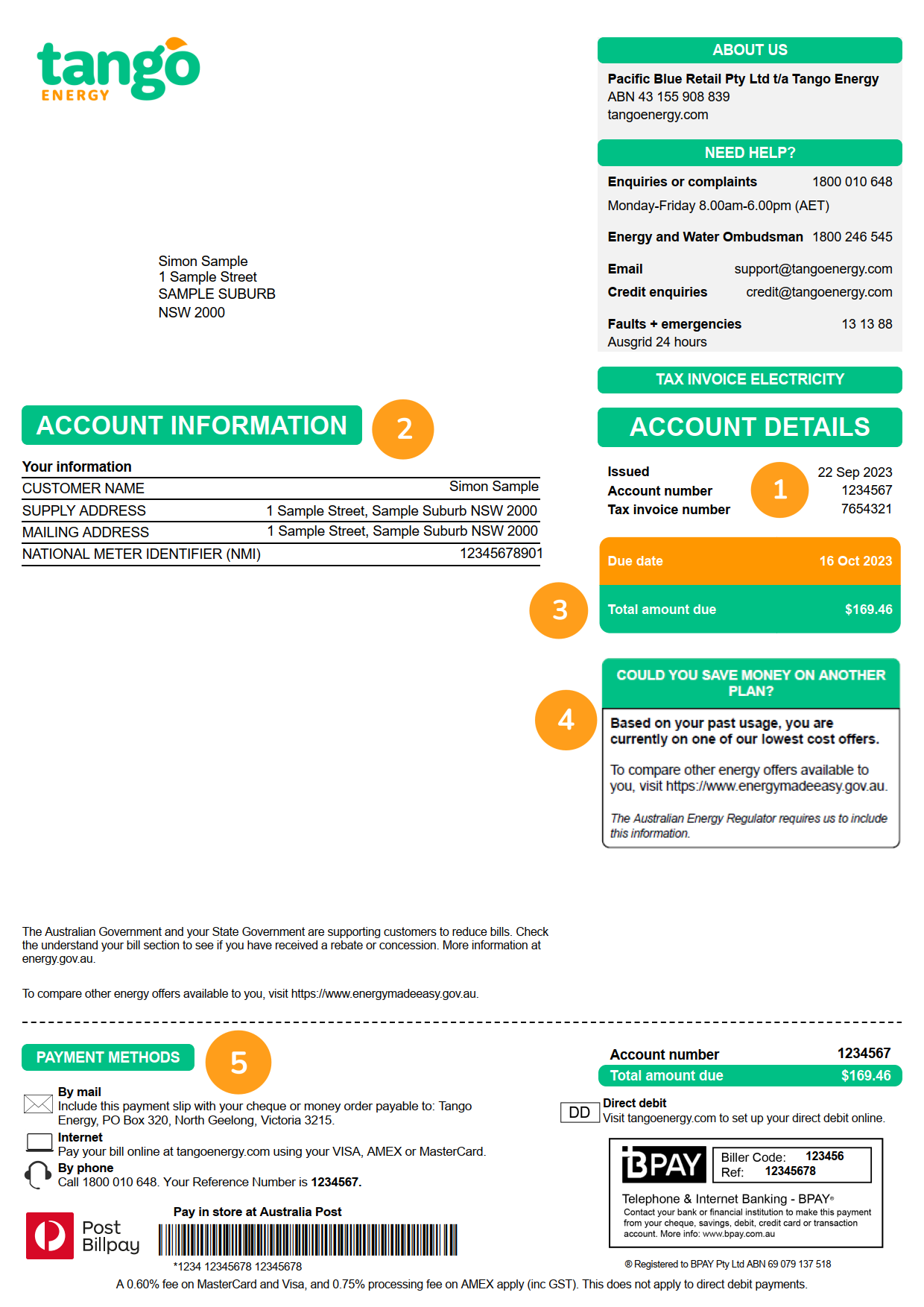 1. Your account details

Your account number shown here is specific to your account. Keep note of this number as this is one of the main ways in which we identify you.
2. Your account information

All your account information is here, including:

Your name
Your supply and mailing address 
Your NMI (National Metering Identifier) where you receive a bill for electricity, and
 

Your MIRN (Metering Identification Reference Number) where you receive a bill for gas.
3. Your bill

Amount due and due date

The amount due is the total amount payable for the relevant billing period, inclusive of GST. The due date is the date the bill must be paid by. If you have any outstanding amounts, this will show in between the due date and the total amount due. If you have a payment plan, information on your payments can be found at the bottom of page two.

Information on how this amount has been calculated can be found in your understand your bill table on page 2.
4. Best Offer Message

You may also notice a new section on the first page of your bill titled "Could you save money on another plan?". This will help you identify if there is a better Tango Energy plan available to you or if you are on our best offer for your specific circumstances. 
5. Choose how to pay your bills

Here are a range of easy payment options – simply choose the one that suits you best. We offer several ways of paying your bills, including direct debit, which takes the hassle out of your payments and ensures you always pay your bills on time. 
6. Understanding your bill

The understand your bill table outlines how the total amount due has been calculated. This includes all the relevant energy charges you incur throughout your billing period, as well as deducting amounts where required.

Here is where you will find a full breakdown of your bill and what your payment is going towards. For example:

Supply charge: A daily service charge to deliver electricity to your property.

Peak, Shoulder and Off-Peak: Your electricity use is charged at different prices during different time periods (peak, shoulder and off peak). Prices are usually cheaper in off peak and shoulder period and more expensive during peak periods. If you'd like to reduce your bills, take note of the times here and schedule use of key appliances which generate a lot of energy at these times, such as dishwashers and washing machines.

Solar: Solar power which is electricity produced by the sun and is generated by solar panels on your roof. Here you'll see how much you have made and used.

Concessions: Any discounts you may receive will be shown here.

Demand: A tariff set by your energy distributor for peak electricity usage at a specific time of the day. To reduce this amount, you can try to use electricity evenly throughout the day to avoid high charges.
7. Other charges or rebates

This area will show any further charges or rebates that will add or reduce your total bill amount for the billing period. Some of these include:

Special meter read fees
Dishonour fees
Energy Bill Relief
8. Total Due

This shows the total amount of your bill, including all charges that you have incurred as a result of your energy usage throughout your billing period as well as any deducted tariffs, discounts or rebates as applicable. You will see your balance carried forward, plus any new charges you have incurred.
9. Support and help

If you require any assistance, including interpreters or information on how to arrange payment options, you will find that here. For further information on the assistance available, view Tango Energy's Hardship Policy at Hardship policy | Tango Energy.
10. Summary of your plan

Here you will see which Tango Energy plan you are currently on.
11. Daily Average (Cost)

Here you will see your average daily usage for the billing period. You will also be able to view a comparison of your average from the same time last year if you have been a Tango Energy customer for over 12 months.
12. Household consumption benchmark

This graph shows you how much energy you have used in your billing period and how you compare with energy users in your postcode.
13. Greenhouse gas emissions

This graph breaks down how much greenhouse gas emissions have been generated as a result of your energy usage throughout your billing period.
14. Other messages

This section contains further details for you, such as:

Information if you are moving house to allow you to transfer your energy account to your new site
Information to ensure you have clear access to the meter at your site to allow Tango Energy to perform a read at your next scheduled date (where applicable)
The availability of any energy concessions as well as a contact number to discuss any concession you may be eligible for.
14. Your meter detail

Here is where you'll find your meter read details. These are used to calculate your energy bill for the billing period.
Click here to download a PDF version
Help and support
Contact us
We're here for you via chat, email or phone, Mon- Fri, 8am-6pm (AEST).